Welcome to Chiropractic Life
Scotland's most comprehensive Health & Wellness Solution
Are you in pain, sick, or suffering? Are you tired of taking handfuls of medication, and looking to change your health and life naturally? Then Chiropractic Life Health & Wellness is the place for you.
---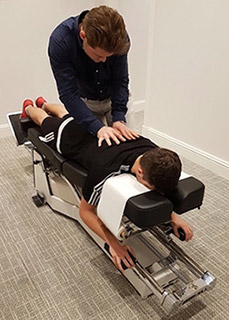 At Chiropractic Life your health is our mission.
You can be assured we will take the time to listen, evaluate your overall health, clearly explain how we can help, and take your hand through an individually tailored healthcare plan that will truly change your life for the better. With Chiropractic at the core of our healthcare we also offer Personal Training and Spinal Rehab, Therapeutic Massage, Nutrition and Supplementation Plans, Stress Management and Mindfulness – all the tools needed to create and maintain a healthy lifestyle. We are now proud to be the first clinic in Scotland offering 8 Weeks to Wellness®, a comprehensive life changing programme that has transformed and saved the lives of thousands across the world and continues to do so.
Meet Dr Daniel Brown (Chiropractor)
After a 5 year Master's degree Dr Brown (Chiropractor) graduated from the prestigious Anglo-European College of Chiropractic in 2008 where he started his career with the Wight Chiropractic Clinic in Edinburgh. In 2009 he took over the Perth clinic and renovated and rebranded it as Chiropractic Life. Since then the business has grown considerably and is renowned for its clinical excellence and patient care. Although consistently achieving great results with patients, Dr Brown (Chiropractor) knew that in order to create longer lasting beneficial effects he had to provide a system that would focus on a full lifestyle transformation. In 2017 he moved the business into a much larger custom built premises in Perth city centre, which has become the first and currently the only Chiropractic Wellness centre in Scotland. Dan explains, "it was the natural progression that we needed to take in order manage all the components needed to consistently achieve life changing results."
---
Chiropractor Perth | Chiropractic Life